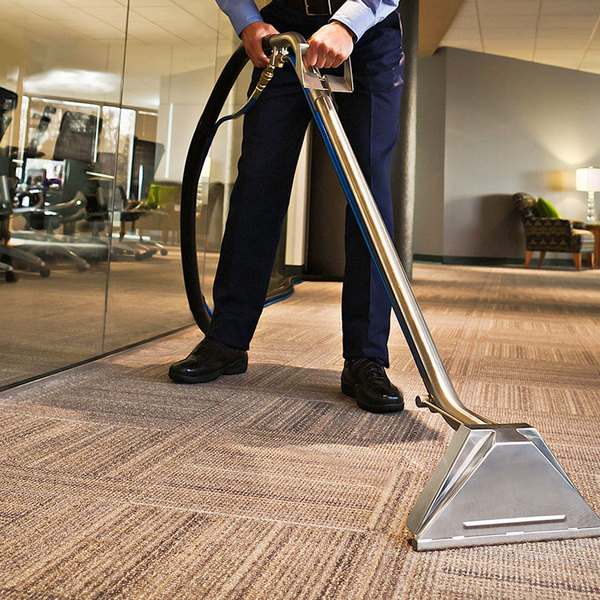 Everyone knows that regular vehicle maintenance will reduce costly trips to the mechanic and ultimately increase the lifespan to your vehicle. In the same way, a proper carpet and upholstery maintenance program will allow you to protect your buildings valuable asset — your carpet — and keep it looking new for as long as possible.
Clearcare offers custom carpet care maintenance programs designed to help manage your maintenance costs and keep your carpets looking great all year round. Our carpet cleaning programs include interim cleaning as well deep cleaning using hot water extraction. Combining these cleaning methods will greatly increase the lifespan of the carpet.
Encapsulation is an interim cleaning process which uses an innovative polymer chemistry. When this solution is applied and agitated into the carpet fibres, it forms distinct encapsulating crystals as it dries. The unique technology suspends dirt and soil from the carpet fibres into a brittle crystal which can then be vacuumed clean. Low moisture levels, quick drying time and low labour costs make this the ideal interim carpet cleaning program for your facility.
Our Steam Cleaning (Hot Water Extraction) provides a deep cleaning solution for your carpets. It uses a combination of hot water pressure, agitation, and extraction to rinse and release soils from carpet fibres. All carpet areas are pretreated before the process begins to loosen stubborn stains. While this method tends to be more costly, it provides true cleaning and extraction of dirt and soils from your carpet.
Whatever your carpet cleaning needs, our professional technicians can help you reach your goal to maintain great looking carpets for your facility. Contact us today and see the difference we can make for your facility.
Carpet Cleaning Services include:
Steam Cleaning / Hot Water Extraction
Upholstery Cleaning
Encapsulation Cleaning
Bonnet Cleaning
Fabric/Curtain Cleaning
Our Commercial Cleaning Services include:
General Cleaning Services
Superintendent Services
Window Washing Services
Carpet & Upholstery Cleaning
Post Construction Cleaning
Supply & Stock Consumables
Power Washing Services
Litter Control
Tile & Grout Deep Cleaning
Areas we Service:
Mississauga, GTA
Oakville, Burlington, Milton, Halton Hills
Hamilton, Stoney Creek, Dundas, Ancaster
Niagara Falls, St. Catharines, Welland
Cambridge, Guelph