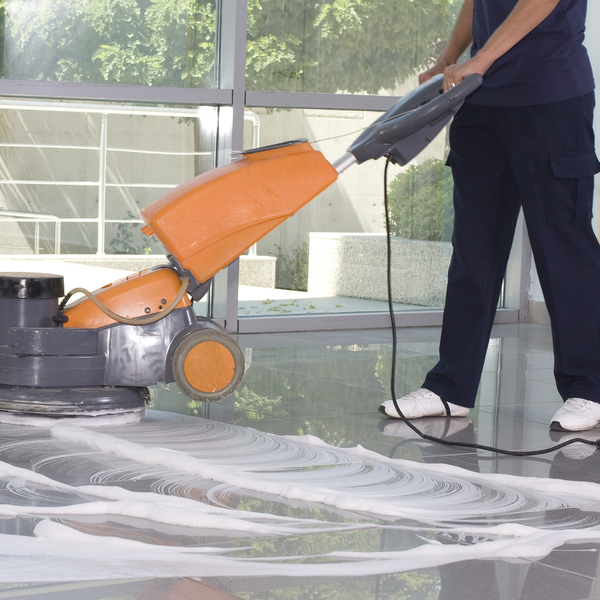 Hard surface flooring requires professional cleaning services in order to maintain its appearance over time. Organic and inorganic materials such as dirt, grit, and sand accumulate on the floors surface area. These materials are quite damaging, and combined with moisture and foot traffic, continually erode and scratch the floor's engineered surface. Without a proper matting program and floor maintenance, the life cycle of your floors can be significantly reduced.
At Clearcare, we specialize in creating a Professional Floor Maintenance Program tailored to the needs of each customer. Maintaining floors at proper intervals, is key to being able to reduce wear and consistently keep floors looking their best. Our high-quality floor finishes can actually increase the time between scrubbing and recoating due to the durability of the finish. By implementing professional maintenance services, using the right equipment, quality chemicals, as well as certified technicians; we are able to help managers and organizations save money and reduce downtime by extending the need for restorative cycles.
Whether you are looking to restore your tile and grout, refinish your fading floors, or implement a new floor maintenance program; we can help you keep your floors looking their best. Contact us to see the difference we can make in your facility.
Our Floor Maintenance Programs may include:
Tile & Grout Cleaning
Carpet Interim Cleaning (Encapsulation)
Carpet Hot Water Extraction
Scrub & Coat (Interim)
Strip & Recoat (Floor Finish)
Tile & Grout Sealing
Our Commercial Cleaning Services include:
General Cleaning Services
Superintendent Services
Window Washing Services
Carpet & Upholstery Cleaning
Post Construction Cleaning
Supply & Stock Consumables
Power Washing Services
Litter Control
Tile & Grout Deep Cleaning
Areas we Service:
Mississauga, GTA
Oakville, Burlington, Milton, Halton Hills
Hamilton, Stoney Creek, Dundas, Ancaster
Niagara Falls, St. Catharines, Welland
Cambridge, Guelph