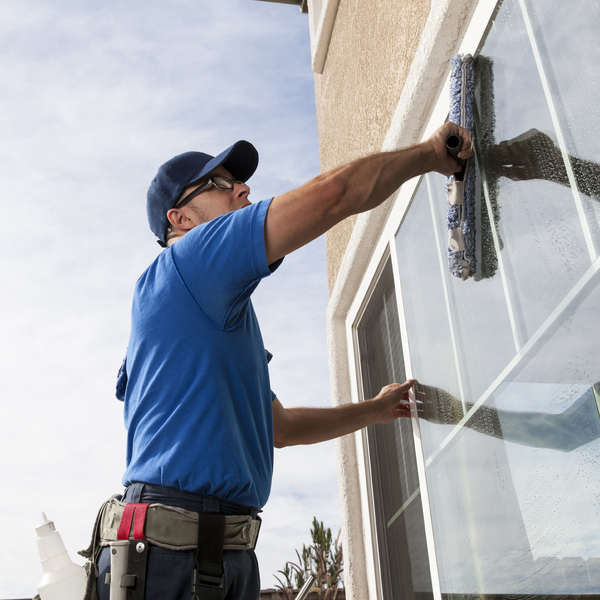 Your business can't simply be the best, it also has to look it's best. A well-run facility has to be clean and organized. This ensures everything runs smoothly, and it instills confidence in the people that walk through the doors. Whether it's a retail space, office location, or commercial building; our trained window washing crews can ensure your business maintains a clean and inviting appearance.
A scheduled window washing service is also important to maintain your windows longevity. Cleaning away salt, dirt and grime from window frames, caulked edges and glass can help to increase the visual appearance and lifespan of your windows. A cost effective program is our professional water-fed pole systems. This system allows us to work safely from the ground while our poles brush and rinse away dirt to a streak free shine. ** Max cleaning height of 4 storie
Post construction window washing is a little more involved and requires us to get up close and personal. It's important to take extra care when removing caulking, paint spray, stickers, or grit without damaging the window panels. Once construction projects are completed, we use aerial boom lifts in order to detail clean window frames and glass from the exterior of the building.
Our cleaners will provide you with fast, effective and affordable window cleaning maintenance that will meet or exceed your expectations. We pride ourselves in our quality service and personalized plans; as well as keeping your building looking it's best.
Additional Services include:
General Cleaning Services
Superintendent Services
Carpet & Upholstery Cleaning
Post Construction Cleaning
Supply & Stock Consumables
Power Washing Services
Litter Control
Tile & Grout Deep Cleaning
Areas we Service:
Mississauga, GTA
Oakville, Burlington, Milton, Halton Hills
Hamilton, Stoney Creek, Dundas, Ancaster
Niagara Falls, St. Catharines, Welland
Cambridge, Guelph